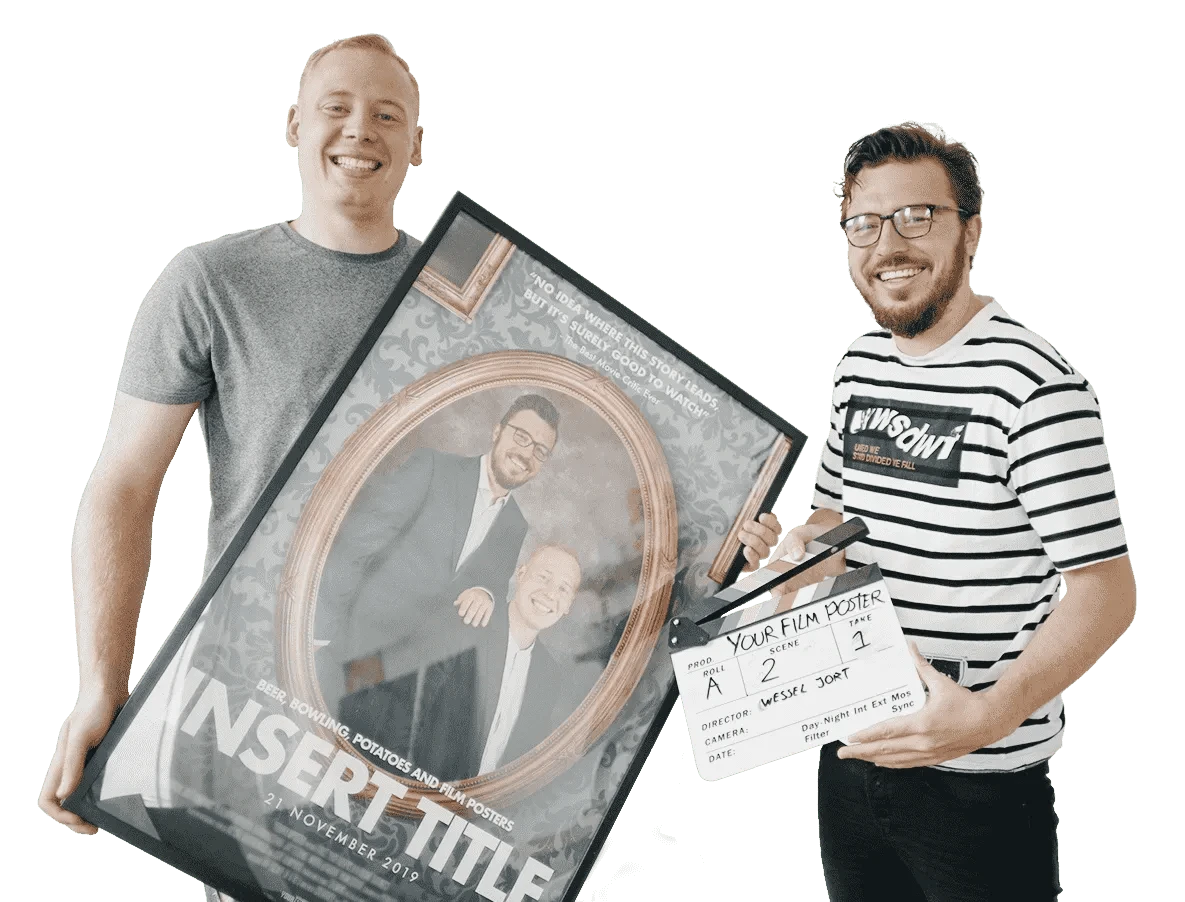 Hello there, and welcome to Your Film Poster
We are Wessel and Jort.

Two film makers and friends, who started Your Film Poster in late 2019.

We believe that personalized gifts are awesome, fantasy and reality can meet and jokes or stories can be visualized in an original, unique, way.
The Pitch
*Read in a Morgan Freeman voice over*

Ten years ago we met and since then we've worked together on many different projects. From shooting films and writing treatments, to moving houses and lighting barbecues.

It was only in late 2019 when we realized we shared a mutual excitement for personalized gifts and wall decoration.

Eventually we figured we could combine this with our passion for film. And we just couldn't refuse...
*Insert light dramatic music*
In the early stages we created posters for family and friends and their reactions were priceless. They loved it. (...phew!)

As excited as we still are today, we wanted to give the world this experience - whilst also making it easy, affordable and quick to get.

We created our own set of "movie posters", looking at cliches and cool and clever designs. Along the way we've met creative people that inspired and helped us build our product range.

Since then we've seen so much creativity in posters made by our customers; it's amazing!

You can't imagine that when you first start.
The Crew
Every day, our young, skilled and enthusiastic team works to create personalized movie posters of great quality.

We highly believe in the power of a personal touch - and that's why we work with people, not robots.

We strive to create the best customer experience possible. We always work with our customers to get the best results.

You're the main character. Not only in your film poster, but also as a customer. That's why we're obsessed about customer service. For us, it's equally (if not more) important as quality.
Why so serious?
Giving a personalized gift shows that you put thought and effort into it. 

And it doesn't always have to be serious.

We see our film posters as extensions of stories or inside-jokes. They can be beautiful and touching or teasing and clever - whatever you want. 

Credits to you - but we're pretty sure it's the best gift of the party.
You're the captain now.
We're excited to be able to help people around the world utilize a photo, whilst also telling the story behind it.
We love wall decoration and hope you do too.

It just might tie the room together!